Flames Saddle
Rating:
( 5 product reviews )
Availability:
Ships within 3-5 business days
---
Product Description
Chicken saddles are made to protect your hen's back from a roosters nails and talons. When a rooster overmates a hen this can lead to serious and sometimes life threatening damage. We make these saddles to allow feather growth without having to separate her from the flock. These can also be used during a molt in case there is excessive pecking. They are also washable and easy to put on! 
These are made with a tough backing and a cotton layer although a fleece backing is optional to help keep your hen a little warmer in cold weather.

Note: This item may come with black or white elastic depending on what we have in stock at any given time.
Sizes:
 Small - 4"- 5" Long Medium - 6" - 7" Long Large - 8" - 9" Long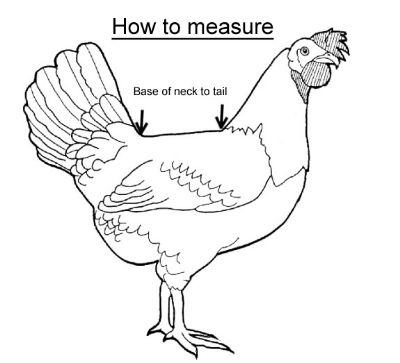 ---
Find Similar Products by Category
---
Product Reviews
Fashionista Chickens

Posted by Mary Carey on 3rd May 2013

I recently ordered 6 of the standard size Flames Hen saddles for some of my Australorp hens as the rooster is a bit overly amorous. I am very pleased with the quality and fit. Everyone who has seen the hens or pictures gets a big kick out of them and comments on my fashionable chix. I am going to place another order this week for the rest of the hens.

---

Great fit! Great quality!

Posted by Unknown on 10th Apr 2013

I have several of these saddles. This one makes my black minorca extra snazzy... while her feathers grow back

---

Works wonders!

Posted by BethN. on 15th Jan 2013

After 20 minutes of trying to get Pearl to put on her spiffy new backways apron, I had to change tactics! This is doing its intended job. It's great.

---

Loved it!

Posted by Unknown on 18th Nov 2012

I really liked my hen saddle! I ordered 3 differen saddles each with a different feature (one with fleece, one with snaps, and one plain all with scotchgurd). and I founf that this one looked great on my sassy black australorp!

---

Love my new flaming chicken saddle!

Posted by Unknown on 30th Oct 2012

Fits great and looks great, I am very happy with my purchase!

---
---
Customers Who Viewed This Product Also Viewed